Code AF-02040 Manufacturer AFP
Chopped Mackerels and Tunas Cuddler AFP Natural Instincts Box
Extravagant plush toys for cats with catnip. The box contains 18 cat toys.
Chopped Mackerels and Tunas Cuddler AFP Natural Instincts Box
Who doesn't play will be a head shorter!
The AFP brand mackerels and tunas know this, and are armed with several gadgets for the game!
The head and body of the fish are held together by a flat fabric rubber, so the cat can move by the fish's head.
For even more distraction of the cat's senses, the toy includes a catnip.
Daily play is very important for your cat's physical fitness and mental well-being. This range of toys is designed to encourage feline instincts and playful behaviour.
Just like humans, pets can get bored with their daily routine. With a wide variety of textures, colors and sounds, you'll keep your pet wonderfully entertained.
Box size: 30 x 30 x 23 cm
Size of one stuffed animal in the package: 35 cm
| | |
| --- | --- |
| Brand | AFP |
| Kód produktu | AF-02040 |
| Pet | cats |
| Type of toy | fish, animal |
| Sound | crunchy, rustle |
| Material of toy | plush / cloth |
| Product category | toys |
| Herbs | catnip |
| Brand | AFP |
| Buying by | 1 pc |
| VAT | 21 |
Alternative products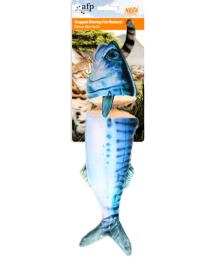 in stock
219 Kč inc. VAT
in stock
219 Kč inc. VAT