Code AF-03568 Manufacturer AFP
Treasure box Bouncy sea life friends 30 pcs
Collection of plush fishes with a rubber ball inside. Ideal toys for fetch and cuddling. Box contains 30 pcs of toys for dogs.
Availability:
out of stock
Treasure box Bouncy sea life friends 30 pcs
This collection of plush animals is a great choice for all dogs and their owners looking for a combination of a plush toy and a rubber ball.
Inside each animal is a rubber ball with little spikes that make these toys perfect for playing, cuddling and fetching.
The ball peeks out of the fish's tummy, allowing the dog to enjoy the texture and spikes of the ball, but it is held securely inside the plush cover so it cannot be removed.
Box size: 32 x 32 x 26 cm
Size of 1 animal in the box: 17 x 14 x 9 cm
Designed for supervised play.
| | |
| --- | --- |
| Brand | AFP |
| Kód produktu | AF-03568 |
| Pet | dogs |
| Type of toy | balls, animal |
| Toy usage | fetch |
| Sound | squeaky |
| Material of toy | rubber, plush / cloth |
| Size of the dog | small, medium |
| Product category | toys |
| Brand | AFP |
| Buying by | 1 pc |
| Expiration | without expiration date |
Alternative products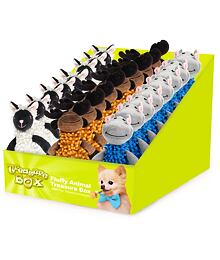 in stock
5 059 Kč inc. VAT
in stock
3 659 Kč inc. VAT
Code: AF-03565
out of stock
New
out of stock
5 199 Kč inc. VAT