Code PL-490755 Manufacturer Plutos
Plutos cheese bone Puppy Apple
Natural cheese delicacy for chewing with apples. It helps reduce the formation of dental plaque, brush teeth and suppress the smell of the mouth. It is highly digestible, does not contain lactose and is an ideal treat for puppies.
Plutos cheese bone Puppy Apple
Plutos chewing bone is a 100% natural cheese treat not only for puppies. It helps in the care of the dog's dental hygiene from an early age and does not burden his digestion.
Contains omega 3 and astaxanthin, it positively influences the development and growth of bones, joints and muscles, and supports the proper functioning of the heart.
Plutos Puppy are hard enough for chewing to help manually clean a dog's teeth, but soft and brittle enough to prevent injury to the teeth and gums of sensitive teeth.
Contains Qrill pet - a protein rich in omega 3 and astaxanthin, so Plutos Puppy is a suitable treat for puppies of every size, dogs with weakened teeth and dogs with sensitive digestion.
QRILL Pet is a natural krill pet product, certified by the Marine Stewardship Council as a sustainable source and a traceable product from sea to finished product.
Krill is a collective term for small marine crustaceans, living primarily in the polar area. They represent a high quality protein with many health benefits for animals and humans. It is often called the "superfood of the sea", mainly due to its high content of astaxanthin - a powerful natural antioxidant - and omega-3 fatty acids, which support the proper functioning of the immune system, heart and brain. It positively influences the development of the puppy's cognitive functions. At the same time, it is perfect support for proper growth and development of bones, joints, muscles and tendons.
Size: 60 g, 10 x 4 x 2 cm (It is a naturally processed product, the shape and weight may vary slightly from piece to piece.)
Ingredients: milk protein (lactose-free), apple meal, krill protein, pea protein, minerals (including salt and calcium)
Natural additives: preservatives, antioxidants (vitamin E), emulsifier
Analysis: crude protein 40%, moisture 16%, crude ash (minerals) 10%, crude fibre 3.5%, crude oils and fats 3% - omega 3 (ALA 108; EPA 286; DHA 199) mg/100g, astaxanthin 45mg/100g
Recommended dosage:
If your dog is active, the recommended daily intake is one treat, with reduced to normal activity of the dog, the recommended amount is 2-3 treats per week, always depending on his weight, condition and total food intake. Do not leave the dog unattended when serving a treat. Ensure sufficient drinking water.
Why Plutos?
- contain high quality protein and healthy amino acids
- help reduce the formation of dental plaque and reduce unpleasant odors from the mouth
- are free of gluten, cereals and lactose
- support the breakdown of fats
- they are low in fat and carbohydrates
- thanks to their high digestibility and adequate hardness, they are safe even for puppies and dogs with sensitive digestion.
- are made in Europe
Plutos contain casein - a lactose-free, low-fat milk protein that is a source of healthy amino acids, calcium and phosphates, important for the proper growth and development of all mammals. Casein is slowly digested, promotes fat breakdown and satisfies well. It is a quality and long-lasting source of energy, has a proven antibacterial effect and helps reduce dental plaque and unpleasant odor from the mouth.
Unlike the classic chewing treats on the market, Plutos are designed so that they do not break during chewing and can be completely chewed. They are hard and their chewing will give the dog a job, but at the same time flexible enough not to break a tooth or suffocate.
| | |
| --- | --- |
| Brand | Plutos |
| Kód produktu | PL-490755 |
| Ingredients | grain free |
| Pet | dogs |
| Flavor | fruit |
| Product type | treat |
| Size of the dog | small, medium, big |
| Kind of treat | dental, chewing |
| Type of treat | cheese chew |
| Product category | treats |
| Brand | Plutos |
| Buying by | 1 pc |
| Expiration | with expiration date |
Alternative products
We recommend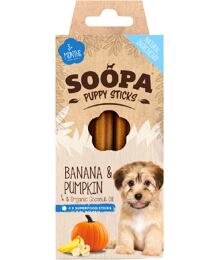 in stock
129 Kč inc. VAT