Code IR-012557 Manufacturer Irish Pure
Irish Pure Senior Freiland-Huhn chicken with vegetables and kelp 1,5 kg
A grain-free food with free-range chicken, suitable for senior dogs. 100% natural and 100% Irish. Single-species formula with high meat content.
Irish Pure Senior Freiland-Huhn chicken with vegetables and kelp 1,5 kg
This food is specially formulated to meet the needs of senior dogs. It contains reduced fat and protein and more fibre. It will help to stay fit even in higher age.
Contains only ingredients from local Irish farmers and fresh free range meat.
100% natural and 100% Irish
Irish Pure with chicken contains 53% free-range meat, 44% vegetables and 3% kelp.
high meat proportion
100 % free range  animals
fully grain free
meat from cruelty-free animal husbandry, that is processed within 48 hours
refined with the superfood kelp algae
100 % Irish, produced with love in family owned businesses
Because every animal matters
Irish Pure believes that treating every animal with respect makes sense. Due to the mild climate of Ireland and the wide lush meadows, the animals can graze at least 360 days a year on green fields, and move as they please.Their feeding is 100% in line with their natural diet. The result? Contented animals which provide high quality proteins for healthily nourished dogs.
The meat for Irish Pure is processed fresh within 48 hours without freezing.
This is made possible through short delivery routes and the vast pastures of Ireland.
It makes our Irish Beef and Irish Lamb among the highest quality meats in the world.
To guarantee the highest quality, every single batch is checked in laboratory.
Chicken is an easily digestible type of meat, with a high protein and low fat content. It is exactly the type of meat your dog would eat in the wild.
Vegetable is sourced from local farmers and grown using traditional methods.
Kelp algae is a true natural wonder and comes from the Atlantic Ocean off the west coast of Ireland. It is rich in vitamins, full of microelements, good for skin and hair, digestion and joints. Irish Pure products are enriched with a nutritionally relevant amount of 3 % kelp algae! This manifests in: glossy coat, teeth, better digestion and a more agile dog.
100 % Family
When choosing manufacturing partners, Irish Pure rely on family businesses with many years of experience and a track record in proven quality. The dry food supply partner has been producing pet food for racing dogs and racehorses for 5 generations. They focus on Irish traditions and values in combination with new technology.
Ingredients: fresh chicken meat 25.0%, dried chicken meat 21.0%, sweet potatoes 14.0%, potato meal 14.0%, pea meal 6.5%, chicken fat 6.0%, dried kelp 3.0%, flaxseed 2.0%, alfalfa 1.0%, animal protein (hydrolysed) 1.0%, spinach powder, broccoli powder, chicory extract, rosehip extract, cranberry extract, blueberry extract, calendula extract, oregano, carrot powder, turmeric, ginger extract, calcium hydrogen phosphate, sodium chloride, yeast extract, glucosamine hydrochloride, chondroitin sulfate
Analysis: crude protein 25,0 %, crude oils and fats 14,0 %, crude fibre 2,3 %, crude ash 7,3 %, moisture ~10 %, calcium 1,6 %, phosphorus 0,9 %
Nutritional additives per kg: vitamin A, E 672 24 000 IU, vitamin D3, E 671 2 000 IU, vitamin E (alpha-tocopheryl acetate) 250 IU, copper, E 4 (copper sulphate pentahydrate) 28 mg, selenium, E 8 (sodium selenite) 0,33 mg, iron, E 1 (ferrous sulphate monohydrate) 250 mg, magnesium, E 5 (manganese oxide) 65 mg, zinc, E 6 (zinc oxide) 97 mg, zinc, E 6 (zinc chelate hydrate with amino acids) 200 mg, iodine, E 2 (calcium iodate anhydrous) 2,50 mg
Recommended daily dose depending on the weight of the dog:
5 kg   80 g
10 kg 140 g
20 kg 220 g
30 kg 290 g
40 kg 360 g
50 kg 430 g
60 kg 500 g
The manufacturer recommends dividing this amount into two doses.
Actual consumption depends on the age, activity and general condition of the dog.
Ensure sufficient drinking water. Store in a dry and cool place.
| | |
| --- | --- |
| Brand | Irish Pure |
| Kód produktu | IR-012557 |
| Type of food | dry food |
| Ingredients | grain free, complete, monoprotein, superfoods |
| Weight | 1.5 kg |
| Pet | dogs |
| Flavor | chicken |
| Product category | food |
| Brand | Irish Pure |
| Buying by | 1 pc |
| Expiration | with expiration date |
Alternative products
Discount

50%
Clearance Sale
in stock
390 Kč inc. VAT 195 Kč inc. VAT
Discount

50%
Clearance Sale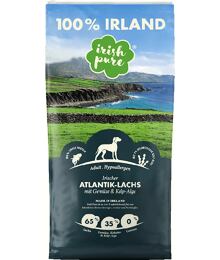 in stock
450 Kč inc. VAT 225 Kč inc. VAT
Discount

50%
Clearance Sale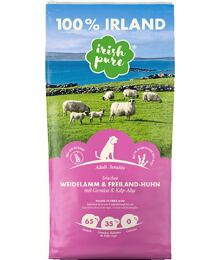 in stock
390 Kč inc. VAT 195 Kč inc. VAT